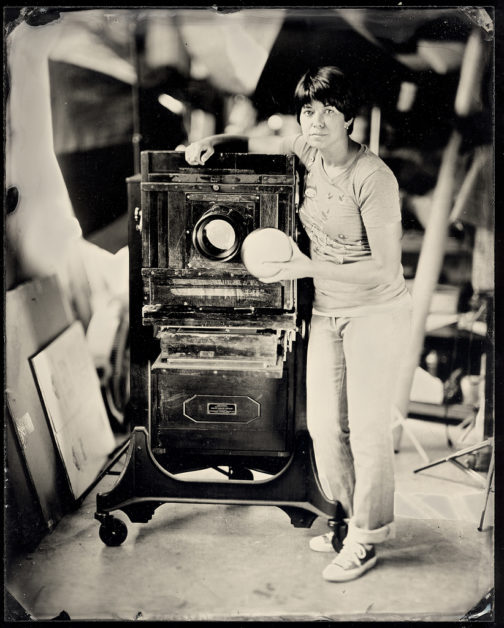 Workshops
I am now offering wet plate collodion workshops. Students will come in on the evening before the workshop and get a tour of the studio as well as a demonstration of the process. Students can discuss the subject matter they wish to explore and arrangements can be made to bring in props and or hire a model at an additional cost. The following day will be spent creating creating images and getting acquainted with the process. You will learn how to prepare, pour, sensitize, and develop wet plate collodion plates  ranging from 1/4 plate to 11 x 14 clear glass ambrotypes, tintypes, and wet plate negatives.  I have three cameras to use, the 8 x 10 Deardorff and the giant 11 x 14 Deardorff studio camera.  Plates sizes range from 1/4 plate up to the 11 x 14 size plate if time allows.
     All chemistry, substrates, and lunch will be provided so all you have to do is show up with a note pad. Expect to take home between 8-16 finished plates
The workshop is only available Saturday and Sunday only unless otherwise arranged.  We will start on in the evening before from 6-9 p.m. with a brief intro and demonstration.  We begin shooting the following Sunday at 9 am-6 pm or later. By the end of the workshop, you will have the knowledge and confidence to pursue wet plate on your own and I will gladly provide further support and advice.
  Cost is $600.
I do not teach the daguerreotype process due to the high level of commitment the process demands. It is also involves extremely dangerous chemicals and is difficult to teach in one or two days time. I am new to the process and have much to learn. If you would like to begin the process of creating daguerreotypes, there is usually a current listing of available workshops on cdags.org
If you are interested please contact me at daclotype@daniel-carrillo.com to schedule a weekend.